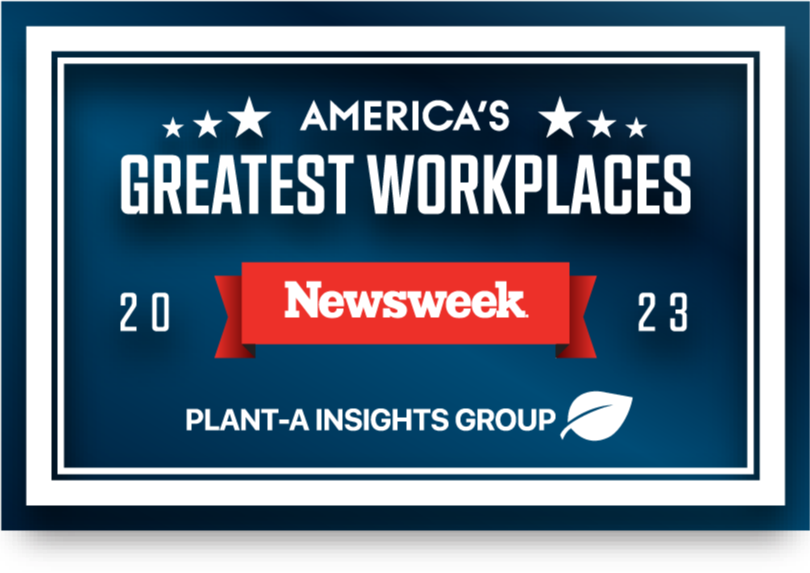 ALLENTOWN, Pa., July 06, 2023 (GLOBE NEWSWIRE)—CAI, a global technology services firm, today announced its recognition as one of America's Greatest Workplaces 2023 ↗ by Newsweek and Plant-A Insights Group.
The ranking of America's Greatest Workplaces 2023 identified the top 1,000 companies in the United States. The list is based on a large employer survey and of a sample set of over 61,000 respondents living in the U.S. and working in the U.S. for companies that employ at least 1,000 employees. The study collected, in total, over 389,000 company reviews of companies in the U.S. that employ at least 1,000 employees across all industry sectors.
The evaluation and scoring were based on company familiarity, target group, category valuation, media monitoring and a final evaluation by Newsweek and Plant-A. Category valuation was based on eight categories—company image, corporate culture, working environment, work-life balance, training and career progression, compensation and benefits, sustainability awareness and proactive management of the diverse workforce.
"We take immense pride in the collaborative and supportive culture we have built," said Tammy Harper, chief human resources officer at CAI. "Our employees' wellbeing and success are our top priorities giving them the freedom to spark new ideas and be themselves. With empowered talent, distinguished achievements such as Newsweek's lists are made possible."
"Companies benefit from creating great workplaces," said Nancy Cooper, global editor in chief at Newsweek. "Employees who like their work are more productive, benefit from all around better health and wellbeing and in turn provide excellent customer experiences. Newsweek is highlighting CAI as the kind of company that respects its people and invests in its culture."
This recognition is CAI's second Newsweek honor having been named on America's Greatest Workplace for Diversity list in January. Additional accolades include Top 50 Inspiring Workplaces in North America, The Globee Award for American Business with the gold achievement in Diversity, Equity, and Inclusion and regional honors by Top Workplaces.
If interested in a career at CAI, visit https://www.cai.io/about-us/cai-careers-open-positions
About CAI
CAI is a global technology services firm with over 8,500 associates worldwide and a yearly revenue of $1 billion+. We have over 40 years of excellence in uniting talent and technology to power the possible for our clients, colleagues, and communities. As a privately held company, we have the freedom and focus to do what is right—whatever it takes. Our tailor-made solutions create lasting results across the public and commercial sectors, and we are trailblazers in bringing neurodiversity to the enterprise.
Learn how CAI powers the possible at www.cai.io
Email media contact at media.inquiries@cai.io
Go to the Newsroom