ALLENTOWN, Pa., July 13, 2021 (BUSINESS WIRE)—CAI, an innovative business technology services firm, today announced it received the maximum score possible on the 2021 Disability Equality Index® (DEI) and has been recognized as a "Best Place to Work for Disability Inclusion" by Disability:IN. Of the 319 total participants, 272 scored 80 percent or above with CAI earning 100 percent.
The DEI is the world's most comprehensive benchmarking tool for the Fortune 1000 and America's top 200 revenue-grossing law firms to gauge disability workplace inclusion against competitors. In its seventh year, the DEI exists to help businesses make a positive impact on the unemployment and underemployment of people with disabilities.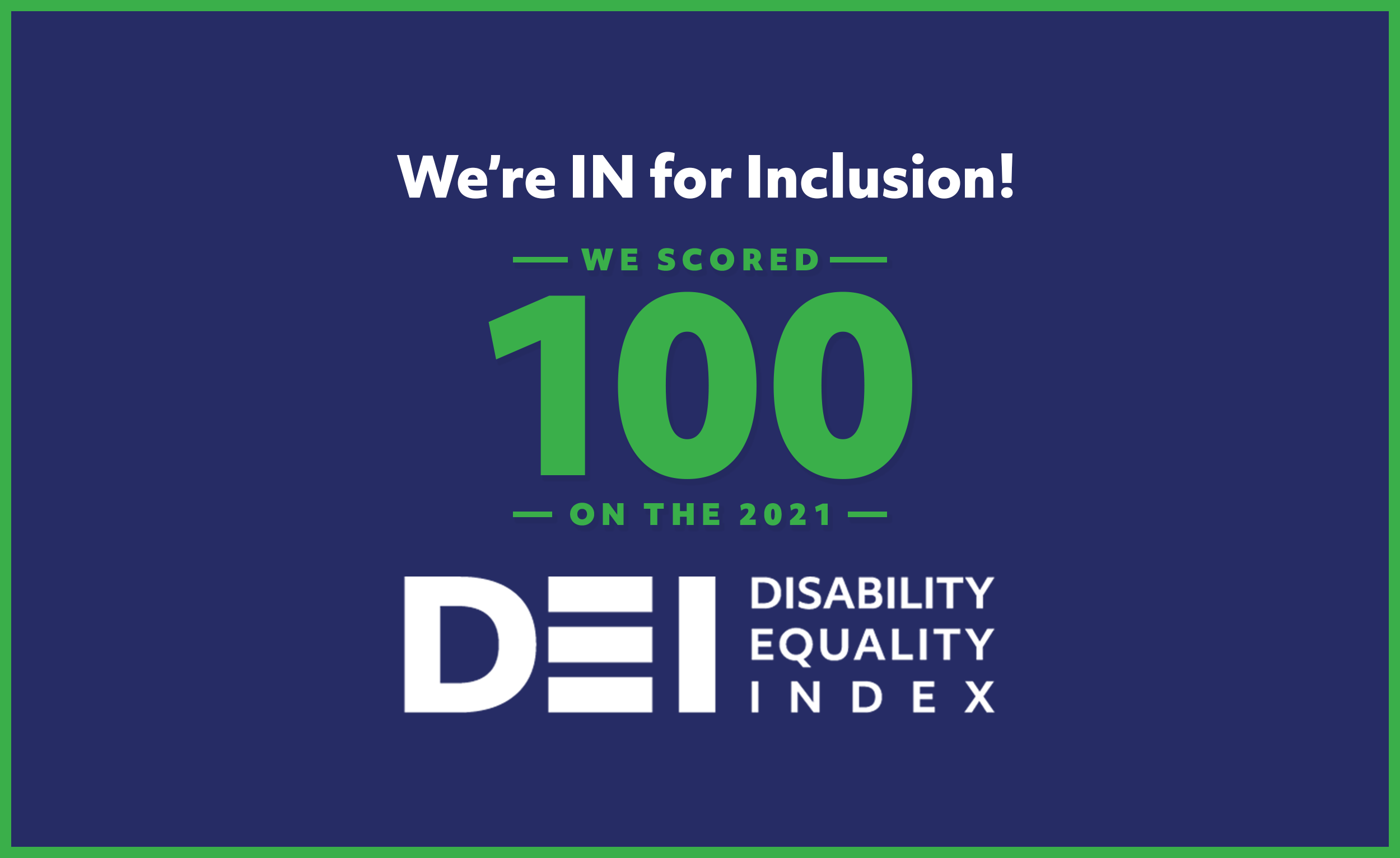 According to The World Bank, 1 billion people around the globe have some form of disability and are more likely to experience adverse socioeconomic outcomes such as less education, poor health, lower levels of employment, and increased poverty rates. With the U.S. Bureau of Labor Statistics' current 12.6 percent unemployment rate for people with disabilities, job seekers and onsite and remote employees can benefit from employers improving their accessibility standards while employers can benefit from tapping into this rich talent pool.
Through CAI's diversity, equity, and inclusion board, Human Capital Management, and disability-focused employee resource group, CAI has continued to improve and maintain quality-controlled accessibility within its recruiting policies, technology infrastructure, and benefits offerings. Additionally, CAI's Neurodiverse Solutions program (formerly referred to as A2W) partners with businesses to provide a unique employment model specifically designed to bring the untapped talent pool of individuals diagnosed with autism spectrum disorder (ASD) into the client's workforce.
"Disability-inclusive work practices and our Neurodiverse Solutions program, focused on providing individuals with autism employment opportunities, are rooted in CAI's purpose and social responsibility," said Tom Salvaggio, President of CAI. "Receiving the highest possible score on the Disability Equality Index is a testament to our employees and clients that we cultivate a culture where diversity, equity, and inclusiveness are fostered, reflexive and celebrated."
"The purpose-driven nature of CAI's business extends to cultivating a disability-inclusive workplace for their employees," said Jill Houghton, President and CEO of Disability:IN. "CAI's top score in this year's Disability Equality Index is reflective of their understanding that disability is a strength, and they have made a commitment to furthering that attitude among their constituents."
The DEI is a joint initiative between Disability:IN and the American Association of People with Disabilities (AAPD) and is acknowledged today as the most robust disability-inclusion assessment tool in business. It measures; Culture & Leadership; Enterprise-Wide Access; Employment Practices (Benefits, Recruitment, Employment, Education, Retention & Advancement, Accommodations); Community Engagement; Supplier Diversity; Non-U.S. Operations (Non-Weighted).
For more information about CAI's Neurodiverse Solutions, visit https://www.cai.io/neurodiverse-solutions
For more information about CAI's diversity, equity, and inclusion culture, visit https://www.cai.io/dei
About the Disability Equality Index®
The Disability Equality Index (DEI) is a comprehensive benchmarking tool that helps companies build a roadmap of measurable, tangible actions that they can take to achieve disability inclusion and equality. Each company receives a score, on a scale of zero (0) to 100, with those earning 80 and above recognized as a "Best Place to Work for Disability Inclusion."
The DEI is a joint initiative of the American Association of People with Disabilities (AAPD), the nation's largest disability rights organization, and Disability:IN, the global business disability inclusion network, to collectively advance the inclusion of people with disabilities. The organizations are complimentary and bring unique strengths that make the project relevant and credible to corporations and the disability community. The tool was developed by the DEI Advisory Committee, a diverse group of business leaders, policy experts, and disability advocates. Learn more at: www.DisabilityEqualityIndex.org.
About Disability:IN®
Disability:IN is a global organization driving disability inclusion and equality in business. More than 270 corporations trust Disability:IN to activate and achieve disability inclusion across their enterprise and in the broader corporate mainstream. Through the world's most comprehensive disability inclusion benchmarking; best-in-class conferences and programs; and expert counsel and engagement, Disability:IN works with leading businesses to create long-term business and societal impact. Join us at disabilityin.org/AreYouIN #AreYouIN.
About CAI
CAI is a global technology services firm with over 8,500 associates worldwide and a yearly revenue of $1 billion+. We have over 40 years of excellence in uniting talent and technology to power the possible for our clients, colleagues, and communities. As a privately held company, we have the freedom and focus to do what is right—whatever it takes. Our tailor-made solutions create lasting results across the public and commercial sectors, and we are trailblazers in bringing neurodiversity to the enterprise.
Learn how CAI powers the possible at www.cai.io
Email media contact at media.inquiries@cai.io