Before we get started: What is RPA and how does it help in the finance industry?
As businesses strive for efficiency and growth, automation has become an important tool in many industries. Robotic process automation (RPA) is one of the most efficient and effective ways to automate tasks within a company. RPA is software that can be trained to mimic the actions of a human operator. It can handle a wide variety of tasks, such as copying data from one system to another, opening and navigating software applications, and extracting information from documents.
Automation technologies like RPA are revolutionizing the way we do business. Experts believe that as these technologies become more sophisticated, they will have an ever-increasing impact on productivity and efficiency in future years.
By assigning an RPA system to handle repetitive, mundane tasks, you can get greater productivity—with no clerical errors. And your employees will have more time to dedicate to creative, high-value, decision-making tasks.
Real-world results proving the benefits of RPA in both finance and accounting departments:

6 hrs/wk
Automating the invoice process saved 6 hours of work per week

1 FTE
Automation reallocated 1 FTE to higher-value activities

10 hrs/mth
Automating AP invoices saved 10 hrs of work and $ penalties by timely invoice submission
Meet your newest finance resource: RPA
RPA excels in performing detailed and repetitive work, so your finance and accounting organization is a great place to start. RPA can be used to automate repetitive and mundane tasks such as data entry, invoicing, and invoice entry.
You can automate tasks in bookkeeping, accounts payable or receivable, invoicing, tax compliance, payroll, expense management, and many other areas. This can save your team time and ensure that all processes are completed accurately and on time.
Finance-specific benefits of RPA
Companies that implement RPA tools in their workplace generally see certain overall benefits including higher productivity, improved accuracy, and cost savings.
Beyond that, your finance and accounting organization could benefit in other ways, such as:
Reduced exposure to fraud
Improved risk management and compliance
Consistent, accurate information enterprise-wide
Finance function automation entry points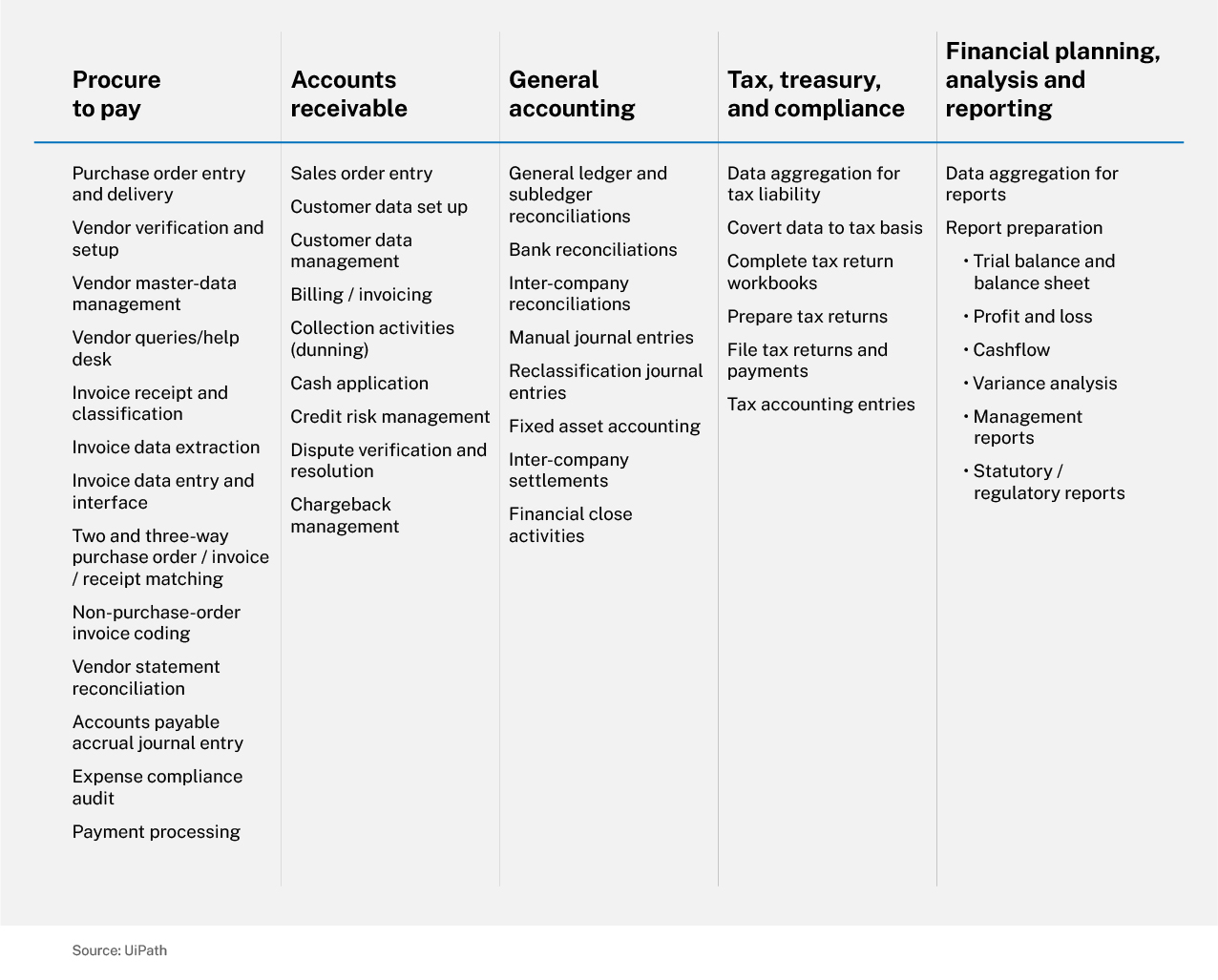 Maximize your ROI with these 3 RPA finance/accounting use cases:
1. Error-free data entry
Many accounting teams spend much of their day within multiple systems (often legacy systems) manually entering data from other sources. If just a single record is entered incorrectly, the effects can spread far beyond finance and lead to costly, time-consuming audits and error correction.
RPA can easily handle the complex task of copying data from one source to another—with no errors. Just like a human, the tool can open and navigate spreadsheets or other accounting software, search and copy relevant data, then enter that data into another system.
2. Streamlined purchase order processing
Purchase orders can come in many different formats. They could be PDFs or scanned images, might contain handwriting, or even be badly cropped or skewed. Regardless of the layout, POs contain certain expected information fields such as:
Amount
Date
Address
Quantity
Description
Tax amount
You can pair RPA with machine learning to read these documents and extract the correct information, then enter it to the relevant system—all faster than any human. You can even configure the robot to notify a human operator if the information is not within an acceptable threshold. This concept is called "human in the loop" since the operator can input the correct information before the robot continues the task.
3. Fast and accurate reconciliation
Reconciling financial data can be a time-consuming activity and a major pain—comparing one set of data against another, often across multiple systems. RPA can rapidly pull in the data from many different tools, compare entries, and flag discrepancies—all in a matter of moments.
This means your financial professionals can spend their time figuring out WHY there is a discrepancy, not trying to find the needle in the haystack.
"Automating some processes has been fast and easy—and has eased friction between associates and our finance and account team. For example, sending email notifications when purchase orders and spend authorizations get below a certain limit."
Start your finance organization on their RPA journey
Automating finance and accounting processes can help ensure efficient, accurate, and timely results. Since those processes are so vital to a company, it's important to get off to the right start.
RPA is a complex, constantly evolving technology, but it doesn't have to be intimidating. Get expert guidance and a solution customized for the needs of your finance organization. In the world of RPA, one size doesn't fit all. Your business is unique—your solution should be too.
To learn more about CAI's custom RPA solutions and get expert guidance along your journey, contact our experts.

Series: Maximize ROI from your RPA
Read more in our 5-part series on maximizing your return on investment in RPA.