What is robotic process automation (RPA) and why is it important?
RPA has been a preferred choice for implementing automation in most industries around the world. It improves process efficiency, operational capability, and agility to help companies keep pace in a highly competitive market and deliver optimized customer experiences. Because RPA has an array of easy-to-integrate features, it is highly compatible with legacy systems.
The integration of RPA with machine learning advances its capabilities beyond the rule-based processing to execute near-human-like decision-making skills. The use of artificial intelligence in RPA supports the processing of semi-structured and unstructured data, enhanced business insights, data integrity, and next-best-step decision-making.
Moreover, the constant evolution of bot-driven solutions is resolving challenges within RPA and identifying additional automation opportunities by recording and analyzing keystrokes from the worker's systems. As the software evolves, AI-embedded RPA bots and applications are relieving human workers of mundane and error-prone work to get more done.
RPA market share: 2021-2028
Revenue for RPA software globally, according to a Gartner report, is expected to increase by ~20% to reach US$1,888.1 million by the end of 2021. The RPA market growth is expected to be largely unaffected by the economic pressure created by COVID-19 and is most likely to witness a double-digit growth rate through 2024.
The major drivers for the rapid increase in RPA adoption can be attributed to its ability to improve the quality, speed, and productivity of operations. Companies believe that the adoption and optimization of RPA can be achieved quickly and with a relatively small investment. Specifically, over the past couple of years, organizations are realizing cost efficiency gains from a reduced cost of manual labor. Consequently, the RPA industry growth is expected to report a compound annual growth rate CAGR of 32.8% for the period between 2021 to 2028. (Source: Grandview Research)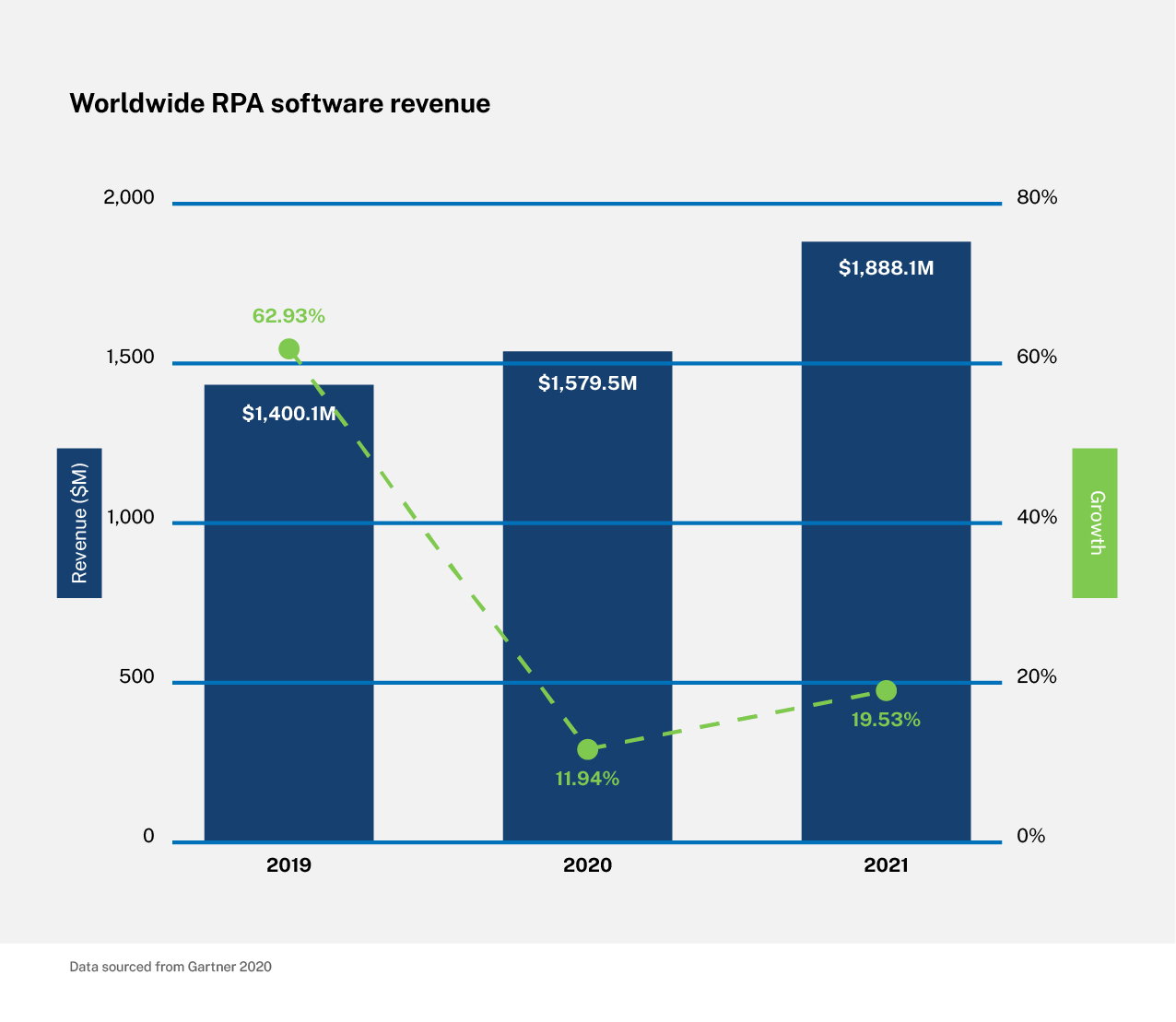 RPA market share - segmentation based on geography
North America dominated the RPA market.
This was driven by:
- High penetration rate of process management and automation solutions across both private and public agencies
- Increased technology awareness and benefits realized among enterprises also added to the RPA industry growth.
- Introduction of RPA tools in the FY2020 budget by the U.S. government agencies
This positive outlook from government agencies has pushed new confidence in the private sector, accelerating RPA adoption and its market. In terms of the RPA market growth, Asia Pacific accounted for the highest CAGR growth rate due to increasing RPA adoption across almost every industry. This regional growth is driven primarily by the adoption of automation in the business process outsourcing (BPM) sector. The only visible challenge is among subject matter experts in India who are skeptical about data privacy and budget constraints.
RPA market growth - segmentation based on the type of RPA
The RPA market can be broadly segmented into services and software.
The services segment accounted for the highest share in 2020, with 61% of the total RPA revenue and is further expected to grow between 2021 and 2028. The reason is attributed to increased enterprise spending on advisory, consultancy, and training services related to automation and their determination to achieve scalability.
The software segment grew at a steady CAGR because of greater enterprise requirements based on work-from-home, remote access, network security, automated tasks for internal data control, etc.
RPA market share - segmentation based on deployment type
RPA deployment is currently being accomplished in two ways: on-premises and in the cloud. The on-premises segment accounted for ~90% of the revenue share in 2020 and is expected to expand further between 2021 and 2028. This significant growth is attributed to large-scale enterprises – the fastest growing group of RPA adopters. Enterprise adoption helps build use cases for large-scale applications with secure access and adherence to company policies and in-house protocols.
A recent trend is the rapid shift from an on-premises deployment to cloud-based deployment in an attempt to offset the huge cost of building a robust on-premises technical environment. With more and more enterprises preferring cloud environments, RPA cloud deployment segment is expected to experience the highest CAGR at 34% for the period 2021 – 2028. The cloud deployment model offers cost efficiency in infrastructure and maintenance along with deployment ease and automatic upgrades. Additionally, one of the biggest advantages of RPA cloud deployment is the ability to access real-time data irrespective of work location, a must-have feature in this distributed working environment.
How has COVID-19 affected global RPA industry growth and adoption?
The biggest evolution in RPA adoption, which was catalyzed by COVID-19, is the recent increase in demand for the work-from-home model. This requires greater integration of cognitive technologies, automation of redundant and mundane tasks, and quick implementation, execution, and management of large data volumes and reduced overhead expenses.
During the pandemic, two scenarios emerged in different sectors. Retail, manufacturing, IT, telecom, among others, faced a slowdown in business while the healthcare industry witnessed tremendous pressure. Many enterprises across the globe had to revamp their business strategies to remain sustainable in the midst of drastically lower demand. COVID-19 also significantly affected the back, front, and middle office operations, resulting in delayed customer responses, employee burnout, supply chain disruptions, backlogs, virtual training, and data privacy issues, among others. As a holistic solution, implementation of automation/RPA solutions along with machine learning was essential to optimizing costs , maintaining customer communications, solving queries, streamlining testing services and reporting.
Quantitive analysis of RPA benefits

Statistics sourced from Gartner, Automation Anywhere
Growth factors in the RPA market
Although the adoption of RPA is at a nascent stage, the RPA market has reported increasing demand due to the growth in SaaS, IaaS, and PaaS offerings for customer relationship management, enterprise resource management, cooperative robot learning, network connectivity, and other financial applications.
Many are treating the implementation of RPA as a strategic decision to reduce or eliminate error-prone, rules-based and high-volume activities. Some companies report their business process management initiatives have eliminated more than 20% of service desk agents with the inclusion of chatbots.
With customer experience as a priority across nearly every industry, RPA is widely being adopted for returns processing, workflow management, customer relationship management (CRM), finance and accounting (F&A), enterprise resource management (ERP) management and marketing, and consumer behavior analysis. The government sector's increased focus on citizen-centric services also makes it more likely to adopt RPA. This means the outsourcing job market is likely to face deterioration as more and more repeatable tasks can be handled by RPA. It also helps reallocate resources to more core, value-added job responsibilities.
From a vendor perspective, RPA providers are intensively partnering with other technology vendors to develop new features using artificial intelligence, optical character recognition, and analytics for greater market share and customer preference.
As companies increasingly realize the many benefits of automation, the need for RPA developers will continue to rise worldwide. While expectations may differ, a handful of best practices remain essential to the viability of the code and managing the long-term cost of ownership of automations. Read our article on eight best practices for RPA developers to gain insight into the recent industry demands, opportunities for RPA developers, and more.