Advances in automation, cloud computing, robotics, and artificial intelligence (AI) have spurred the rapid adoption of new technologies across industries. In particular, robotic process automation (RPA) has exploded in growth because of its easy integration with other systems, user-friendly functionality, and applicability to mundane tasks across various business units. The explosion of interest in RPA began in domains that handle a high volume of transactions like banking and claims processing. Today, interest is growing in businesses of nearly all sizes.
What is robotic process automation (RPA)?
Robotic process automation (RPA) RPA is a software technology that allows people to create automated workflows to automate the repetitive, mundane tasks a human would traditionally complete. Software robots use detailed automation scripts to navigate software applications as a human would with a keyboard and a mouse and access systems through APIs, integrated connectors, or direct function calls.
RPA software tools include the following core functionalities:
Low code capabilities for automation script building
Integration with enterprise applications
Orchestration, administration, configuration, monitoring, and security capabilities
Where is RPA useful?
Organizations across industries and verticals are using RPA as a tactical solution to improve operational efficiency. Rates of adoption are highest in functions like customer relationship management (in which chatbots and digital assistants are proving to be valuable), risk management, finance (Accounts Payable), back office, and front office. Recently, companies are using RPA coupled with machine learning and artificial intelligence to add value to data-driven decision-making.
The below graph represents the relationship between the scope of automation and the degree of automation in terms of business risks and strategies.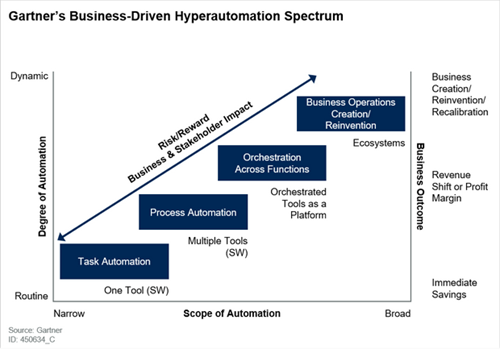 Where is RPA happening in 2023?
Change is evident in business units that are using RPA to automate tasks. As RPA usage grows across the enterprise, new benefits are being realized in areas including Finance, HR, and Sales. While early automation focused on explicit steps within larger processes, the combination of technological advancements in RPA and the growing trust among business stakeholders who have had success handing off work to robots has driven more end-to-end process automation. End-of-day close calculations in Finance are a prime example. Automation is also proving itself beneficial in talent development, learning and recruitment processes, and performance management.
RPA is expected to become an embedded feature in many software platforms. This will be further supported by commoditization, mergers and acquisitions of enterprise software companies for both organic and inorganic growth, and new market entrants. All these factors will further diversify the RPA market.
Key industry drivers for RPA
The growth of RPA is driven by several forces, including:
A proven track record for providing up to 80% cost efficiency, according to UiPath. In addition, RPA software has shown it can deliver a positive return on investment within 12 months of implementation with a further reduction of 20% in accumulated costs.
Increased accuracy through "rule follow" coding; better compliance and consistency in processing (along with easy audibility of results)
The ability to relieve human workers from mundane and repetitive work so they can take on higher-order job responsibilities requiring cognitive abilities
Reduction in cost of RPA as service providers reach economies of scale and offer more cloud-based subscription offerings, increased ROI, and reduced average price-per-seat
What are the key features and benefits of RPA?
RPA offers the following benefits:
Seamless integration with an external system for data capture and entry
Streamlined execution of the automated rule-based framework
Ability to minimize manual/paper-based work
Real-time, cross-platform work with reduced overlap and miscommunication
Reduced cost
Increased productivity
Finance and accounting process automation entry points
Here, we've picked out a list of the processes in finance and accounting that are highly suited to RPA. Though the listing is not comprehensive, it provides a good suggestion of F&A sub-processes that can be explored by any organization that is embarking on driving RPA-led digital transformation of its F&A function.
The future outlook for RPA
New features including automated lifecycle management, workload management, credential management, and Citrix automation is likely to further enhance the adoption rate across industries. The industry also is likely to see enterprises re-evaluate automation projects they have already executed as part of mapping their RPA architecture efficiency.
While RPA has certainly reached full market penetration, we will continue to talk about it for some time as more organizations leverage savings from early RPA successes to invest in complementary technologies like intelligent character recognition and cognitive decision support. Major RPA platforms will continue to enhance technical capabilities to expand the processes that can be successfully accomplished by robots.
CAI helps enterprises prepare for and implement RPA so that it achieves business goals, saves costs, and frees human workers from repetitive work. We partner with the world's leading RPA software company, UiPath, to help your organization use automation to improve productivity and accuracy and ensure a strong return on investment. Contact Us to find out how we can help you.